Gems Blocks Collapse Game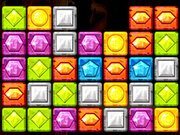 Gems Blocks Collapse Game Online - Play Free Fun Kids Bejeweled Games
Collapse the blocks by tapping groups of horizontally or vertically connected same-color blocks. You will be expected to match three identical blocks in order to get them out of the game. On each collapse you will obtain a score. The bigger the group you collapse, the higher a score you will get. You can eliminate any single block until you have bombs in your inventory. Have fun!
11,333 play times
How to Play Gems Blocks Collapse Game
Use mouse or touch the screen.
Bejeweled Games offer Competition and Pressure
Challenge is now a great part of free online gem games. The gem games are made in a way that they make the player sweat to complete the levels. As the levels increase, the harder the game play becomes. Online gem games are not just about playing casually, they are about competition and pressure. Now you can play gems games just like someone who is paying blackjack or poker. The pressure is there; the excitement, anxiety and the final exhilaration when you complete a level are part of the bejeweled game nowadays. Try to play Gems Blocks Collapse and you shall experience the excitement.