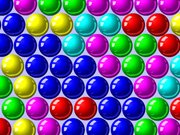 Bubble Shooter Games Online - Play Free Fun Match 3 Kids Game
Play Bubble Shooters online at KidsAndOnlineGames.com! We have picked some of the best and currently most cool Bubble Shooter games available on the web for you and published them here at KidsAndOnlineGames.com. All our online Bubble Shooter games are completely free of charge, free of any obligations as well as a lot of fun. You will find a variety of cool, free online cannon shooter games here. We guarantee you that you will realize that playing bubbles shooting games online at KidsAndOnlineGames.com is a lot of fun. We want you to have fun and a lot of success when you play these online match-3 or more and then burst games.
Expect a lot of Excitement with our Bubble Shooters
Whoever does not like the online game Bubble Shooter or these type of online games in general just simply does not like casual games. This kind of a match-3 ball shooter game impresses with its very long lasting gaming fun, you just cannot stop, one's own high score can always be improved upon and the time pressure in the game also provides a lot of excitement. Each bubble shooter player yearns to make all the cute and colorful bubbles burst successfully (bubbles burst game), while the game is really about collecting as many points as possible and driving one's own high score to entirely new heights. Thanks to the high scores in most bubbles shooter games, you can compare your own performance with that of other players worldwide. And that is exactly what is so addictive about it! Therefore, the game Bubble Shooter is definitely one of our most favorite online kids browser games. Have fun when you play a ball shooting game or a few at KidsAndOnlineGames.com!
The Bubble Shooter Game Genre
The genre is a sub-genre of puzzle games, where color matching is one of the focus points. You get a cannon to your disposal, the cannon will shoot colored balls which you much match up with the colored balls above you. The goal of these free online games are to eliminate all the balls or bubbles from the game screen. You eliminate them by shooting matching colored balls to create groups of 3 or more. Shoot as many bubbles away and try to prevent the bubbles to fill the field. If they fill the field you will lose. The free online game have existed for years and many variants of this match 3 game have been made. At KidsAndOnlineGames.com you'll find a number of different bubbles games, with gems, candy, diamonds and animals in them. Here you'll find the most fun online challenges for the whole family.