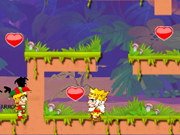 Adventure Games For Kids Online - Play Free Fun Adventure Games
KidsAndOnlineGames.com offer free online adventure games. What kind of story are you in the mood of joining today. Through for hand picked selection of adventure games you can experience a lot in your own little fantasy world. In the jungle adventures you can see wild animals and the platformers let's you run and jump through different worlds. Enter our fantasy world and start a journey through exciting stories. Do you want to be a hero? Or are you looking for some alien action? Take a look at all our fun online games, find your favorite adventure games. It must be one game or maybe more that you will like. Play and enter your own adventure world.
Play Fun Adventure Games for Kids Online today for Free
Welcome to KidsAndOnlineGames.com at this website you can play free adventure games for kids. Not only are these awesome online games free, but they are also a whole lot of fun.
Adventure Games have a lot in common with RPG
Adventure Games are often also called Interactive fiction. This is a type of computer game where the action is often dominated by the solution of tasks and mysteries, using objects that can be picked up and manipulated, and interaction with other characters. The focus of the game is on narrative rather than testing of reflexes, as in action games. Adventure has therefore often more in common with other narrative art forms (such as comics, novels, movies and theater) than with other types of computer games. Adventure fits easily within genres like fantasy, science fiction, horror and mystery. Adventure games have a lot in common with data RPGs, but has a much greater emphasis on the problem solution, and usually a peaceful solution, while problems in RPGs often solved by struggle. A general rule is that a game is an RPG if it uses any form of numbers or values to describe the characteristics of persons or objects, such as strength, endurance and injury. This distinction is liquid and many games these blends and action games. Examples of such mixing is the classic video game, the Legend of Zelda.
Adventure Gaming for Highly Skilled and Newbie Players
Our collection of adventure gaming is perfect for highly skilled and newbie players alike. Enjoy simple Point 'n Click challenges, try wild, action-packed minigames, or play full-scale RPGs! Travel from your country to other continents, and even venture into outer space! With thousands of fun kids adventure games available, you can partake in addictive journeys for countless hours! Ride rollercoasters, don't get caught, and battle with dangerous pirates! Play modded, computer versions of your favorite console games for free, or try totally unique kids flash games! Our free online adventure game collection consists of dozens of different genres. Music fans can learn to play to instruments and create songs, while movie buffs can reenact scenes from their favorite films! Play the role of business owner, and run a bustling restaurant in a management-style game. Choose a character in each challenge to represent you or one of your heroes. Solve mysteries in point 'n click challenges, and compete with players around the world. Make key decisions, and experience a brand new journey every time in our fun free adventure games!