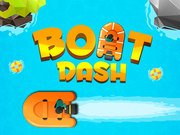 Boat Dash Game Online - Play Free Fun Kids Water Games
You're on a fun boat ride. Enjoy beautiful views along the way as you try to avoid obstacles. Collect powerups such as bubbles and star badges. Enjoy a fun theme and audio. Choose between 5 different boat types: Try the inflatable raft, speed boat, hovercraft, yacht and cargo ship. How far can you ride?
10,565 play times
How to Play Boat Dash Game
Use your mouse (move and click) or tap the screen on touch screen devices.