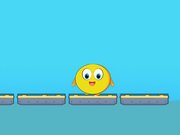 Kara Water Hop Game Online - Play Free Fun Kids Water Games
This is possibly the cutest war game ever to hit the Internet. You are a little (but fat!) cute flightless chicken that wants to cross the lake. But because you can't fly nor swim, you have to jump on platforms that are on water's surface and go as far as you can. You have normal and double jump and have to jump correctly to land on platforms. In addition to being unable to fly, you also can't swim, so falling in the water means losing. Do your best to go as far as you can and earn more score in the process. Do you have few minutes on hand, and want to something fun, then you should absolutely play this fun game.
10,443 play times
How to Play Kara Water Hop Game
Use your mouse to play the game or tap on the screen.
Kara Water Hop appeals to just about everyone
Overall, Kara Water Hop is the kind of online game that appeals to just about everyone. You don't have to be a fan or water games to love it but at the same time, it isn't so far from the genre that it will alienate game fans. Although more experienced gamers will probably find this one a bit on the easy side, they'll love the fact that they can do something different without abandoning the genre they love completely. The fun graphics make playing the kids water game amusing which the difficulty level makes it incredibly addictive. While many will be tempted to skip this one because of the cutesy graphics, it would be a mistake. If you are a fan of water games, this is one you absolutely have to try.