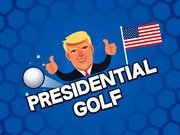 Presidential Golf Game Online - Play Free Fun Kids Sports Games
It's time to make America great again. Together with the president Donald J. Trump play golf in a series of challenging holes. Drop into the golf course via the presidential helicopter. How cool is that? Adjust your swing power and let loose. Features funny dialogs by POTUS himself avoid bunkers and water hazards. Love or hate Trump this online game is gonna be yuge. Note this is a political satire parody game, so please do not take this too seriously. Have fun!
10,308 play times
How to Play Presidential Golf Game
Tap the screen or click with your mouse.
Which US President Played the Most Golf?
The most popular sport among US Presidents is Golf. While President Joe Biden spends his time off sleeping and eating a lot of chocolate ice cream, other American presidents spent some time on the golf course. Almost all Presidents in the last 75 years have been known to hit the links at some point or another. Some are better than others, some play too much Golf (according to the American people), and some avoid the game as much as possible. Woodrow Wilson , the twenty-eighth president of the United States of America, holds the record for most rounds of Golf completed during a presidency. In six years, he played over 1200 rounds of Golf. His golfing career was sadly cut short by a stroke. Despite playing over 1000 rounds of Golf, Wilson never seemed to figure out this crazy game. Dwight Eisenhower is one of these people in the history of the game that perhaps did more for Golf than he got out of it. He is the one responsible for a putting green being installed at the White House. During his eight-year presidency, it is widely believed that Dwight played over 800 rounds of Golf. Donald Trump is known for criticizing how much golf Obama played during his time in office. During his years as President, Obama played approximately 333 times. Donald Trump is said to have the lowest handicap among presidential golfers. His handicap is reported to have gone as low as eleven at one point.
The History of Golf
The origins of golf are unclear and much debated. However, it is generally accepted that modern golf developed in Scotland during the Middle Ages. The game did not find international popularity until the late 19th century, when it spread into the rest of the United Kingdom and then to the British Empire and the United States. Stick and ball games have been around for many centuries, but golf as we know it today, played over 18 holes, clearly originated in Scotland. The first documented mention of golf in Scotland appears in a 1457 Act of the Scottish Parliament, an edict issued by King James II of Scotland prohibiting the playing of the games of gowf and football as these were a distraction from archery practice for military purposes. The earliest known instructions for playing golf have been found in the diary of Thomas Kincaid, a medical student who played on the course at Bruntsfield Links, near Edinburgh University, and at Leith Links. His notes include his views on an early handicap system. The oldest surviving rules of golf were written in 1744 for the Company of Gentlemen Golfers. Golf courses have not always had eighteen holes. The St Andrews Links occupy a narrow strip of land along the sea. As early as the 15th century, golfers at St Andrews established a trench through the undulating terrain, playing to holes whose locations were dictated by topography.
Tags: Golf