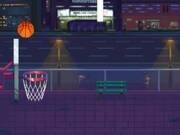 Basketball Shoot Game Online - Play Free Fun Kids Sports Games
It's time for a hoop-shooting showdown! Basketball shoot is simple play with one touch or one click. Challenge your ingenuity by controlling the ball into the basket. Collect the coins and using it to unlock more balls or maps. Play now and give it your best shot! Have Fun!
10,998 play times
How to Play Basketball Shoot Game
Use mouse or tap screen to play the game.
Basketball is played all around the World
From New York to London, to Paris, to Beijing. From Sarajevo to Dafar to Buenos Aires to Los Angels and everywhere in between the game of Basketball is played. It's played in the city parks of New York and the dusty plains of Africa, and the expensive designed courts of the NBA. The game is played wherever someone can get a ball, and a mounted ring-like object. Unlike other sports that require multiple people and a lot of equipment, Basketball only requires a Ball and the willingness to play.
Tags: Basketball