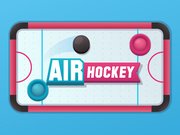 Air Hockey Game Online - Play Free Fun Kids Sports Games
Paddles and puck ready! Move your paddle, hit the puck towards the opponent's goal. How many points can you score? This fun online game features beautiful and modern user interface. The AI is really tough to beat. Fans of ice hockey and winter sports will love this game. A typical air hockey table consists of large smooth playing surface, a surrounding rail to prevent the puck and mallets from leaving the table, and slots in the rail at either end of the table that serve as goals. Have Fun!
12,694 play times
How to Play Air Hockey Game
Simple touch and drag system, suitable for desktop, smart-phone and tablet devices. 2 game-play modes: timed or first to score. 3 difficulty modes: Easy, Medium and Hard. For more info we recommend you watch the interactive tutorial.
Air hockey was invented in the early 70s
In 1969, a trio of Brunswick engineers - Phil Crossman, Bob Kenrick, and Brad Baldwin - began work on creating a game using a frictionless surface. The project stagnated for several years until it was revived by Bob Lemieux, who then focused on implementing an abstracted version of ice hockey, with a thin disk, two mallets and slit-like goals equipped with photo detectors. It was then decided that the game might appeal to a larger market and air hockey was marketed and sold to the general public. The original patents reference Crossman, Kenrick and Lemieux. It should also be noted that the air table proper had already been patented before Brunswick's project, though for unrelated purposes. In any event, the game was an immediate financial success and by the mid-1970s there arose substantial interest in tournament play. As early as 1973, players in Houston had formed the Houston Air Hockey Association, and soon thereafter, the Texas Air-Hockey Players Association, codifying rules and promoting the sport through local tournaments at Houston pubs Carnabys, Damians, and the University of Houston. To ensure uniform play standards of the highest competitive quality, the United States Air-Table Hockey Association (USAA) was formed in 1975 by J. Phillip Arnold, largely as an official sanctioning body. In this way, non-player friendly rules imposed by Brunswick corporation were rendered void, and the sport of air hockey was secured under the control of players since that time.