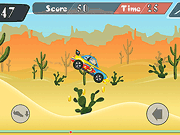 Speed Racer Html5 Game - Play Fun Kids Racing Games Online
You can complete the level by level and collect the coins. Collect the coins and unlock the 10 different tracks. and attractive game play. Physics based game where your goal is to win. Have fun!
12,216 play times
How to Play Speed Racer Game
Use touch buttons or keyboard. Keyboard : A, D, Space Bar, Left and Right Arrow Keys.