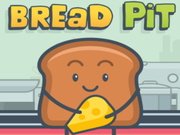 Bread Pit Game Online - Play Free Fun Kids Web Games
Overall, Bread Pit is the kind of online game that appeals to just about everyone. In this funny little game you will have to help a piece of bread become a fragrant crispy toast. There will be traps to avoid: forks and knives sticking out. Have fun!
14,877 play times
How to Play Bread Pit Game
Use your mouse or touch the screen.
Almost True Fun Facts about Bread Pit (aka Brad Pitt)
Bread Pit (Brad Pitt) is an American actor and producer. His full name is William Bradley Pitt. He was born on December 18, 1963 in Shawnee, Oklahoma. He grew up close to mining pit in Springfield, Missouri. His favorite food to eat is bread. Toasted or fresh, he likes all kinds of bread. He doesn't like to eat cherries because he is afraid of choking on the cherry pit. He is also afraid of dogs, because once he had a dream about a pit bull trying to bite him. He married Jennifer Aniston in a highly publicized ceremony in 2000, but got a divorce in 2005, because she was nagging about his bread eating habits. No long after he married Angelina Jolie, which he later divorced, also because of her complaining about his bread eating habits.
Tags: Bread