Candy Shooter Deluxe Game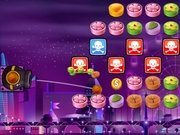 Candy Shooter Deluxe Game Online - Play Free Fun Bubble Shooter Games
Candy Shooter Deluxe is a web game that will make your mouth water. This is a free online bubble shooter game where you get to shoot at candy. For those who have a sweet tooth, you will be amazed at the amount of candy that you find in this bubble blasting game. All sorts, shapes and colors that will have you reaching for some loose change to go and buy sweets. Anyhow, in order to play, you have to match a set of 3 or more candies of the same type. Use cannon to shoot all the candies on the screen. Cannon shot costs money so you'll need to remove all of the candies on a level before you run out of money. Shoot the bonus items to help you get more money or powerful shots. It is quite a sweet game, but you have to be careful about how the candies get attached to each other. Have Fun!
10,911 play times
How to Play Candy Shooter Deluxe Game
Use touch or click to play this game.
Fun looking DIY (Do-It-Yourself) Deluxe Candy Launchers
There are many very interesting and fun looking DIY (Do-It-Yourself) deluxe candy launchers, a shooter gun, a cannon, or a catapult out there that shoot different types of candy from a few feet up into the air to 100 feet up! Online, you can watch a youtube video about how to make one, or you can read about the invention of the Cheer Launcher at WikiPedia. I would love to be at a parade or school event and have yummy deluxe morsels of sugary treats fall down from the sky for easy pickings! I am not so sure how they would taste if they came from a black powder cannon, but I would still try it. It would be fun to play a free shooter saga or bubble game without a download. I am looking forward to Halloween coming up so I can sneak some of my children's least favorite treats from their stash!
Are hooked on candy?
Take a walk to the mall and buy some candy because this fun online game is too sweet for you. When you think about candy, your mouth begins to water. Children especially are hooked on sweets. They can eat so much of it and will only feel unwell after the candy has reached the tummy. This is a great time for you to enjoy remembering how it felt to engorge yourself on these sweet tidbits. Candy Shooter Deluxe is a free online bubble shooter game which will amaze you and your palate. Not all candy contains sugar, and there is that which uses substitutes so you may as well indulge when you are at the mall. Candies are best enjoyed when they are eaten with the fingers, and this is done in a very casual manner. There is no time that you cannot eat candy. It is not a dessert or other formal food. It is something that came into being to treat children when they behaved well, and very soon it became a world wide phenomenon. In the United States alone, candy sales accounted for $57 billion; when playing this free online game, you can have a healthy respect for the industry too.