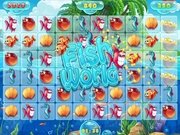 Fish World Game Online - Play Free Fun Kids Bejeweled Games
Fish World is an interesting free online bejeweled game where you are to tap the screen to drag and drop the fish match 3. Connect fish of the shape and color. Match as many as you possibly can. You have only 30 seconds so better match fast. If you can match more than three fishies, you'll be given extra time. Remember that you should have a keen eye so you can see the fish that are similar. Enjoy the game!
10,789 play times
How to Play Fish World Game
PC controls: Mouse. Touch Control works on all browsers and all mobile devices.
Themed Bejeweled Games are the new Hype
Free online bejeweled games are becoming more popular since they now have stories and themes. Tiny Fish Factory requires a lot of strategy. You have to fill all the cells with water, but not haphazardly, but in a vertical manner. Ideally, one should start filling up water from the border cells. These have a habit of being left and in the long run cost you time as you try to swing the patterns towards them. Free online jewels games used to be about crating combos and having a quick eye to see where the next trio of gems could be formed, but today, you are finding more games which have a theme, and also try to tell a story. They add a lot more challenge to that of finding matching gems, and getting them off the board. Now you have to actually see which way to move the patterns. If you want to fill the left hand side with water, then you will try to make matches that are on that side, until all the cells are filled with water. This is precisely what the developers expect; free online jewels games that give you something to worry and strategize about.